April 16, 2013
"Make The Games You Want To Make"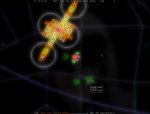 Last month, ACMI hosted the panel Indie Development: Exploring The Fringe, one in a regular series of Re:Play panels organised by Freeplay. Over the night, independent game designer Farbs, developer and regular jam organiser Andrew Brophy and freelance artist Yangtian Li discussed their experiences with the indie gaming scene and some of the ways independent games are unlike anything else.
Matt and Donald were in attendance and bring you some of the interesting stories and ideas from the night.
Matt:
When it comes to maintaining a healthy gaming diet, I often find myself neglecting my serving of indie titles and the massive scene that surrounds it. Thankfully, I managed to get my fill with this panel and learn more about the ins and outs of how these independent developers get by.
The three panellists came from different walks of the independent gaming life. Yangtian discussed the benefits crossing over from mainstream to indie early in her career. She was picked up by various studios for graphic design, frequently catering to their demand without a say. After several gigs with little to no creative control (where she had it, her designs were scrapped due to executive decisions), she eventually pursued design for independent games, magazines and books. With this discovery, she found her profession to feel more like a hobby rather than gruelling work.
Farbs stressed the importance of never leaving yourself physically or emotionally short when it came to developing titles, particularly independent ones where the only 'employee' is yourself. He had seen many fellow designers burning out way too quickly and as a fail safe, made sure he didn't follow suit.
Andrew also stressed this point, given his experiences as a circus performer, and made it a point to never socially restrict oneself, particularly in the face of game design.
Despite their different takes on the scene, one thing I most definitely took home was how down to earth some developers can be, especially these three. Having to adjust to life's many stresses  just to share such interactive experiences with no strings attached is something I can certainly respect.
Donald:
Two themes kept popping up throughout the night.
It began when Farbs brought up how intensely personal indie games can be. After departing from 2K Australia (allow me to remind you of his farewell message), he began work on Captain Forever. It was his first game working alone, something which was (unintentionally) reflected in the game's general sense of loneliness and isolation. Conversely, his next game, the bright and colourful Cumulo Nimblers, came after the birth of his first son.
This point was echoed by Andrew Brophy, who said that if you make a game by yourself, "you're making a game about yourself." He pointed at a couple of his own games which were about loss and confusion. Yangtian Li approached the point from a different perspective, that projects of passion and self-expression are, "almost like an art in itself"
The other thread among the panellists was the sheer joy of working on your own projects. Andrew cited this as his reason for continuing to make his own games. He relished the complete control he had over them; it's the reason why he doesn't want to produce games for a company. And as mentioned by Matt, Yangtian found herself working on projects she had no say in, working on other people's art that was "not what I wanted." It got to the point where she began to question herself. She halted her freelance work for three months to work purely on personal projects, which helped to regain her passion for drawing, bringing her to where she is now.
Each panellist brought their own set of backgrounds and experiences, but each shared common common ground in these two themes, as would many indie developers out there. The night ended with an oft-cited quote but one which remains relevant to the indie development scene: "Make the games you want to make"
[Image credits: Farbs (Captain Forever); Yangtian Li]